Weather
24°
Climate Conditions: overcast clouds
Humidity: 95%
Wind speed: 1.98 km/h
Wind direction: 278°
Evolution
Daily Weather Forecast Evolution (°C)
Other Information
Timezone: GMT+05:30
More about Yen Bai:
Yen Bai, Vietnam: Climate and Weather Year Round
Yen Bai is a province located in the Northwestern region of Vietnam. It is known for its stunning natural landscapes and rich cultural heritage. To fully appreciate the beauty of Yen Bai, it is important to understand its climate and weather patterns throughout the year. In this article, we will explore the different seasons, temperatures, precipitation levels, and the best time to visit Yen Bai.
Seasons in Yen Bai
Yen Bai experiences four distinct seasons: spring, summer, autumn, and winter. Each season brings its own unique charm to the region. 1. Spring (March to May): Spring in Yen Bai is characterized by mild temperatures and blooming flowers. It is considered one of the most beautiful seasons, with the landscape turning vibrant and colorful. The average temperature during this time ranges from 15°C (59°F) to 25°C (77°F). 2. Summer (June to August): The summer season in Yen Bai is hot and humid. Temperatures can reach as high as 35°C (95°F), especially in the lower areas of the province. This is also the rainy season, with frequent showers and occasional thunderstorms. It is advisable to carry an umbrella or raincoat when exploring Yen Bai during this time. 3. Autumn (September to November): Autumn is a pleasant season in Yen Bai, characterized by cooler temperatures and clear skies. The average temperature ranges from 20°C (68°F) to 25°C (77°F). The province is adorned with golden hues as the leaves change color, creating a picturesque landscape. 4. Winter (December to February): Winter in Yen Bai is cold and dry, with temperatures dropping below 10°C (50°F). The higher altitudes of Yen Bai experience frost and occasional snowfall, adding to the charm of the region. It is recommended to pack warm clothing when visiting during this season.
Temperature in Yen Bai
The temperature in Yen Bai varies throughout the year, with the highest temperatures experienced in summer and the lowest temperatures in winter. Here is a table showcasing the average monthly temperatures in Yen Bai:
| Month | Average Temperature (°C) |
| --- | --- |
| January | 13 |
| February | 14 |
| March | 17 |
| April | 21 |
| May | 24 |
| June | 27 |
| July | 28 |
| August | 28 |
| September | 27 |
| October | 24 |
| November | 20 |
| December | 16 |
Precipitation in Yen Bai
Yen Bai receives a significant amount of rainfall throughout the year. The precipitation levels vary depending on the season, with the highest rainfall occurring during the summer months. Here is a chart showcasing the average monthly precipitation in Yen Bai:
Best Time to Visit Yen Bai
The best time to visit Yen Bai is during the spring and autumn seasons. Spring offers mild temperatures and beautiful blooming flowers, while autumn showcases the stunning golden hues of the landscape. These seasons provide pleasant weather for outdoor activities and sightseeing. It is important to note that Yen Bai is a mountainous region, and the weather can change quickly, especially in higher altitudes. It is advisable to check the weather forecast and come prepared with appropriate clothing and gear for the specific season. In conclusion, Yen Bai experiences four distinct seasons with varying temperatures and precipitation levels. The province's beauty can be appreciated year-round, with each season offering its own unique charm. Whether you prefer the vibrant colors of spring, the warmth of summer, the golden hues of autumn, or the snowy landscapes of winter, Yen Bai has something to offer for every traveler.
FAQ's about Yen Bai's Weather:
Q - What is the Latitude and Longitude of Yen Bai?
A - Yen Bai's Latitude is 21.700001 & Longitude is 104.866669.
Q - What is the weather in Yen Bai today?
A - Weather in Yen Bai is 24° today.
Q - What is the climatic condition of Yen Bai today?
A - Climate Conditions in Yen Bai shows overcast clouds today.
Q - What is the humidity in Yen Bai today?
A - Humidity in Yen Bai is 95% today.
Q - What is the wind speed in Yen Bai today?
A - Wind speed in Yen Bai is 1.98 km/h, flowing at 278° wind direction. today.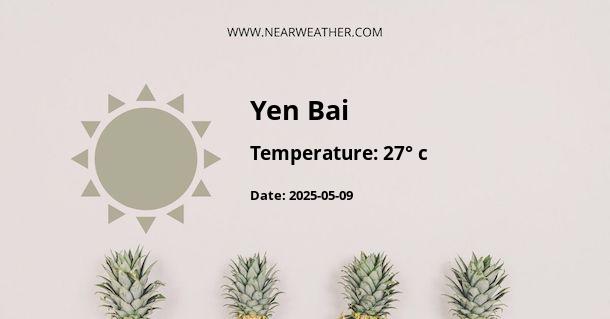 Latest searched locations