Weather
14°
Climate Conditions: overcast clouds
Humidity: 78%
Wind speed: 9.04 km/h
Wind direction: 189°
Evolution
Daily Weather Forecast Evolution (°C)
Other Information
Timezone: GMT+05:30
More about Pushkinskiye Gory:
Climate and Weather in Pushkinskiye Gory, Russia
Pushkinskiye Gory, also known as Pushkin Hills, is a small town located in the Pskov Oblast of Russia. The town is famous for being the birthplace and childhood home of the renowned Russian poet, Alexander Pushkin. When it comes to its climate and weather, Pushkinskiye Gory experiences a continental climate with distinct seasons throughout the year.
Spring (March to May)
In spring, Pushkinskiye Gory starts to emerge from the grip of winter. The weather gradually becomes milder, with temperatures ranging from 0°C (32°F) to 13°C (55°F) in March and increasing to 8°C (46°F) to 20°C (68°F) in May. However, early spring can still witness occasional snowfall and frost, giving way to blooming flowers and budding trees as the season progresses.
Rainfall is moderate during this time, with an average of 30-40 mm per month. The increasing daylight hours provide ample opportunities to explore the town's picturesque landscapes and historical sites.
Summer (June to August)
The summer months in Pushkinskiye Gory are characterized by warm and pleasant weather. Temperatures range from 13°C (55°F) to 23°C (73°F) in June and reach their peak in July and August, with averages ranging from 16°C (61°F) to 25°C (77°F). The region experiences relatively long daylight hours, providing ample time for outdoor activities.
Summers in Pushkinskiye Gory are also relatively wet, with an average rainfall of 50-60 mm per month. The occasional thunderstorms bring relief from the heat and contribute to the lush greenery of the surrounding countryside.
Autumn (September to November)
Autumn in Pushkinskiye Gory is a breathtaking season, as the town is nestled amidst forests that undergo stunning color transformations. The temperatures gradually cool down during this period, ranging from 10°C (50°F) to 19°C (66°F) in September and dropping to 0°C (32°F) to 6°C (43°F) in November.
Autumn is also the driest season in Pushkinskiye Gory, with an average monthly rainfall of around 30 mm. The crisp air and vibrant foliage make this season a favorite for visitors and locals alike.
Winter (December to February)
Winters in Pushkinskiye Gory are cold and snowy, creating a picturesque winter wonderland. The temperatures range from -6°C (21°F) to -11°C (12°F) in December and January, with occasional dips below -20°C (-4°F) during the coldest days. The region receives a significant amount of snowfall during this time, turning the town into a magical snowy landscape.
It's important to note that the town experiences a shorter duration of daylight hours in winter, which can limit outdoor activities. However, the snowy scenery and cozy atmosphere create a unique charm during this time of year.
Climate Chart:
| Month | Temperature (°C) | Rainfall (mm) |
| --- | --- | --- |
| January | -11°C | 30 mm |
| February | -10°C | 30 mm |
| March | 0°C | 35 mm |
| April | 7°C | 35 mm |
| May | 13°C | 40 mm |
| June | 18°C | 55 mm |
| July | 20°C | 60 mm |
| August | 19°C | 55 mm |
| September | 14°C | 40 mm |
| October | 7°C | 40 mm |
| November | 1°C | 35 mm |
| December | -7°C | 30 mm |
Source: Pushkinskiye Gory Climate Data
Conclusion
Pushkinskiye Gory experiences a continental climate with distinct seasons. From the snowy winters to the colorful autumns, each season brings its unique charm to this historical town. Whether you visit in spring, summer, autumn, or winter, Pushkinskiye Gory offers a delightful experience for nature lovers, history enthusiasts, and poetry admirers.
FAQ's about Pushkinskiye Gory's Weather:
Q - What is the Latitude and Longitude of Pushkinskiye Gory?
A - Pushkinskiye Gory's Latitude is 57.020851 & Longitude is 28.910299.
Q - What is the weather in Pushkinskiye Gory today?
A - Weather in Pushkinskiye Gory is 14° today.
Q - What is the climatic condition of Pushkinskiye Gory today?
A - Climate Conditions in Pushkinskiye Gory shows overcast clouds today.
Q - What is the humidity in Pushkinskiye Gory today?
A - Humidity in Pushkinskiye Gory is 78% today.
Q - What is the wind speed in Pushkinskiye Gory today?
A - Wind speed in Pushkinskiye Gory is 9.04 km/h, flowing at 189° wind direction. today.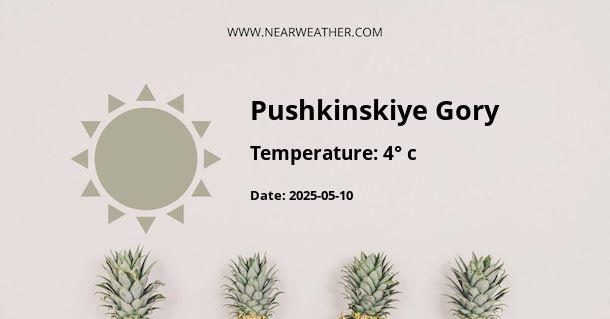 Latest searched locations