Weather
16°
Climate Conditions: clear sky
Humidity: 57%
Wind speed: 11.48 km/h
Wind direction: 212°
Evolution
Daily Weather Forecast Evolution (°C)
Other Information
Timezone: GMT+05:30
More about Milanów:
Climate and Weather in Milanow, Poland
Milanow is a charming town located in Poland, known for its rich history and beautiful landscapes. The town experiences a temperate continental climate, characterized by warm summers and cold winters. In this article, we will explore the climate and weather patterns in Milanow throughout the year.
Seasonal Overview
Let's take a closer look at the weather conditions in Milanow during each season:
Spring (March to May)
Spring in Milanow is a delightful season, with temperatures gradually warming up after the cold winter months. In March, the average temperature ranges from 1°C (34°F) to 9°C (48°F), while in May, temperatures rise to around 11°C (52°F) to 19°C (66°F). It is recommended to pack a light jacket and layers for this season as the weather can be quite changeable.
Summer (June to August)
Summer is the warmest season in Milanow, with pleasant temperatures and longer daylight hours. The average temperature during this period ranges from 15°C (59°F) to 25°C (77°F). However, temperatures can occasionally reach up to 30°C (86°F) during heatwaves. It is advisable to pack lightweight and breathable clothing, along with sunscreen and a hat to protect yourself from the sun's rays.
Autumn (September to November)
Autumn in Milanow is characterized by mild temperatures and beautiful foliage. The average temperature in September ranges from 10°C (50°F) to 19°C (66°F), gradually dropping to 3°C (37°F) to 10°C (50°F) in November. It is recommended to pack a mix of both warm and light clothing to accommodate the changing temperatures during this season.
Winter (December to February)
Winter in Milanow can be quite cold, with temperatures often dropping below freezing point. The average temperature in December is around -1°C (30°F) to 4°C (39°F), while in January and February, temperatures can reach as low as -6°C (21°F). It is essential to pack warm clothing, including a heavy coat, gloves, a hat, and boots, to stay comfortable during the winter months.
Precipitation
Milanow experiences relatively moderate precipitation throughout the year. The wettest months are June, July, and August, with an average of 60-80 mm of rainfall per month. The driest months are February and March, with an average of 30-40 mm of rainfall. It is wise to carry an umbrella or raincoat during the summer months and be prepared for occasional showers.
Extreme Weather Events
Although Milanow experiences relatively mild weather throughout the year, extreme weather events can occasionally occur. Thunderstorms are most common during the summer months, and heavy snowfall can be expected during the winter. It is important to stay updated with local weather forecasts and be prepared for any severe weather conditions.
Conclusion
Milanow, Poland, offers a pleasant climate with distinct seasons throughout the year. From the warm summers to the snowy winters, each season brings its unique charm to the town. Whether you are visiting Milanow for its historical sites or exploring the picturesque landscapes, it is essential to pack accordingly and be prepared for the weather conditions during your stay.
References:
- Climate-Data.org: Milanow Climate Summary
- Timeanddate.com: Milanow Weather Averages
FAQ's about Milanów's Weather:
Q - What is the Latitude and Longitude of Milanów?
A - Milanów's Latitude is 51.703739 & Longitude is 22.888300.
Q - What is the weather in Milanów today?
A - Weather in Milanów is 16° today.
Q - What is the climatic condition of Milanów today?
A - Climate Conditions in Milanów shows clear sky today.
Q - What is the humidity in Milanów today?
A - Humidity in Milanów is 57% today.
Q - What is the wind speed in Milanów today?
A - Wind speed in Milanów is 11.48 km/h, flowing at 212° wind direction. today.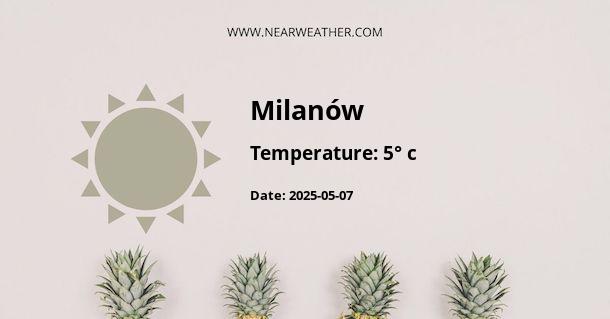 Latest searched locations