Weather
27°
Climate Conditions: light rain
Humidity: 41%
Wind speed: 6.52 km/h
Wind direction: 181°
Evolution
Daily Weather Forecast Evolution (°C)
Other Information
Timezone: GMT+05:30
More about Udhampur:
Udhampur is a district in the Union territory of Jammu and Kashmir (J&K). It is named after Raja Udham Singh and serves as the northern headquarters for the Indian Army. IAF is also stationed here.
The city is situated in the Shivalik range of the Himalayas, and therefore the terrain of the city is mountainous. The winters mostly experience heavy snowfall in the upper reaches. The city, however, falls on the flatter plain and remain aloof of the snow in winters. The city is at an elevation of 756 meters above sea level.
The city experiences a subtropical climate. The summers are hotter, with temperatures rising to 40-degree Celsius. The monsoon and winter season experience a 130cm of rainfall annually. The average temperature in winters drops to 1-degree Celsius. The recorded low registered is -4.4-degree Celsius. The month of February and March experience heavy hailstorms. Due to global warming, the city has experienced heavy snowfall in recent years.
FAQ's about Udhampur's Weather:
Q - What is the weather in Udhampur today?
A - Weather in Udhampur is 27° today.
Q - What is the climatic condition of Udhampur today?
A - Climate Conditions in Udhampur shows light rain today.
Q - What is the humidity in Udhampur today?
A - Humidity in Udhampur is 41% today.
Q - What is the wind speed in Udhampur today?
A - Wind speed in Udhampur is 6.52 km/h, flowing at 181° wind direction. today.
Q - What is the Latitude and Longitude of Udhampur?
A - Udhampur's Latitude is 32.933331 & Longitude is 75.133331.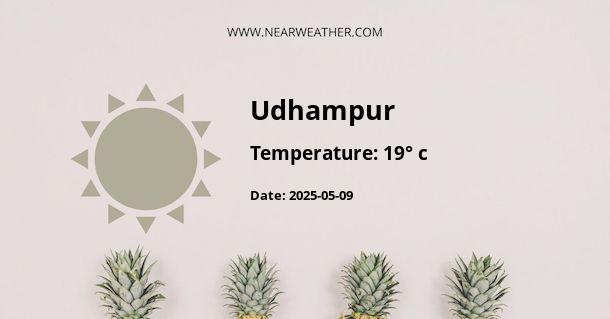 Latest searched locations