Weather
36°
Climate Conditions: clear sky
Humidity: 24%
Wind speed: 4.07 km/h
Wind direction: 171°
Evolution
Daily Weather Forecast Evolution (°C)
Other Information
Timezone: GMT+05:30
More about Rishikesh:
Rishikesh is a tehsil in Dehradun district and is governed by Rishikesh Municipal Corporation. The city is located in the foothills of the Himalayas. It is, therefore, known as the Gateway to the Garhwal Himalayas and is also known as the Yoga Capital of the World. Being a pilgrimage place, the city is considered to be among the holiest places for Hindus.
It is located on the northern side of the state of Uttrakhand in India. The holiest river Ganga emerges from the mountains of Rishikesh and emerges into a broader spectrum on to the Gangetic plains, flowing towards Haridwar. The city is the starting point of the Chardham yatra of Badrinath, Kedarnath, Gangotri, and Yamunotri.
The city experiences a humid subtropical climate. The month of July is often termed as wettest for experiencing the highest rainfall of 444 mm. Similarly, the driest month is November, with rainfall of 10 mm. May to August months experience the highest UV index of 12 and January and December experience the lowest UV index of 4.
FAQ's about Rishikesh's Weather:
Q - What is the weather in Rishikesh today?
A - Weather in Rishikesh is 36° today.
Q - What is the climatic condition of Rishikesh today?
A - Climate Conditions in Rishikesh shows clear sky today.
Q - What is the humidity in Rishikesh today?
A - Humidity in Rishikesh is 24% today.
Q - What is the wind speed in Rishikesh today?
A - Wind speed in Rishikesh is 4.07 km/h, flowing at 171° wind direction. today.
Q - What is the Latitude and Longitude of Rishikesh?
A - Rishikesh's Latitude is 30.116671 & Longitude is 78.316673.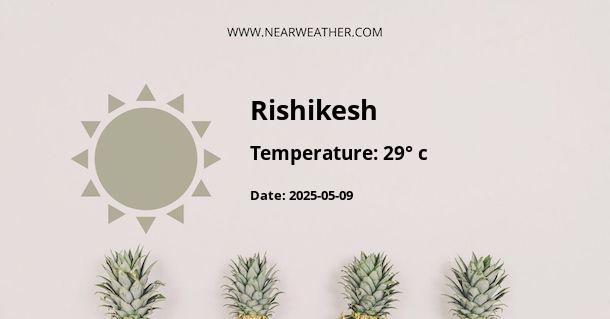 Latest searched locations