Weather
27°
Climate Conditions: shower rain
Humidity: 69%
Wind speed: 20.52 km/h
Wind direction: 250°
Evolution
Daily Weather Forecast Evolution (°C)
Other Information
Timezone: GMT+05:30
More about Mysore:
The city of Palaces, Mysore, has a rich historical significance in India and is, therefore, one of the major tourist attractions in India. It is located in southern Karnataka, in the foothills of Chamundi Hills. It is located in the southern-most part of the state and is, therefore, a border city to the state of Kerela.
Kannada is the most widely spoken language in Mysore. The city has many lakes, including the Kukkarahalli, the Karanji, and the Lingabuddhi, etc. The city is located between two rivers, the Kaveri flowing through the northern region of the city and the Kabini river, flowing through the southern part of the city.
Tropical Savanna climate dominates the city. It borders on a hot semi-arid climate. The summer season ranges from March to June, with monsoon succeeding the summers from July to November. Winters then arrive and dawns on Mysore for December, January, and February. The city receives an annual rainfall of 798.6 mm and has a temperature ranging between 16-degrees to 30-degrees celsius.
FAQ's about Mysore's Weather:
Q - What is the weather in Mysore today?
A - Weather in Mysore is 27° today.
Q - What is the climatic condition of Mysore today?
A - Climate Conditions in Mysore shows shower rain today.
Q - What is the humidity in Mysore today?
A - Humidity in Mysore is 69% today.
Q - What is the wind speed in Mysore today?
A - Wind speed in Mysore is 20.52 km/h, flowing at 250° wind direction. today.
Q - What is the Latitude and Longitude of Mysore?
A - Mysore's Latitude is 12.307220 & Longitude is 76.649719.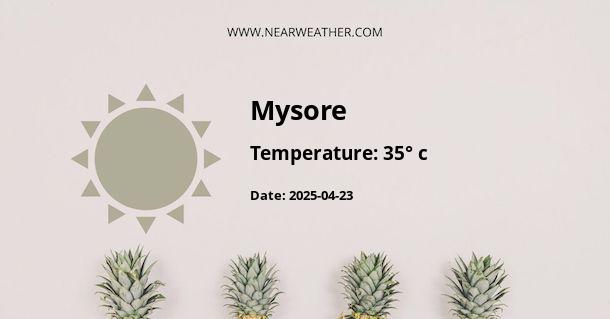 Latest searched locations