Weather
19°
Climate Conditions: overcast clouds
Humidity: 81%
Wind speed: 2.41 km/h
Wind direction: 239°
Evolution
Daily Weather Forecast Evolution (°C)
Other Information
Timezone: GMT+05:30
More about Mussoorie:
Mussoorie is a world-famous hill station in India, which is located in Himachal Pradesh. It is also known as Queen of Hills because of its beauty and pleasant weather. Located on an altitude of 2000 meters above the sea level, Mussoorie experiences a noticeable climatic change. The highest point in Mussoorie is Lal Tibba, which is 6580 feet tall.
The subtropical climate dominates the Mussoorie. Due to the orographic lift of the incredibly moist monsoonal winds, the Summers are very wet and warm at the same time. In winter, there is frequent rainfall. The pre-monsoon and post-monsoon seasons are generally dry and bright. There are some spells of snowfall in January and February. There is a rare phenomenon found here, which is known as the winter line phenomenon from October to February. Due to environmental changes, there have been lots of changes in the climate of this hill station. There is a reduction in snowy days due to global warming and deforestation.
FAQ's about Mussoorie's Weather:
Q - What is the weather in Mussoorie today?
A - Weather in Mussoorie is 19° today.
Q - What is the climatic condition of Mussoorie today?
A - Climate Conditions in Mussoorie shows overcast clouds today.
Q - What is the humidity in Mussoorie today?
A - Humidity in Mussoorie is 81% today.
Q - What is the wind speed in Mussoorie today?
A - Wind speed in Mussoorie is 2.41 km/h, flowing at 239° wind direction. today.
Q - What is the Latitude and Longitude of Mussoorie?
A - Mussoorie's Latitude is 30.450001 & Longitude is 78.083328.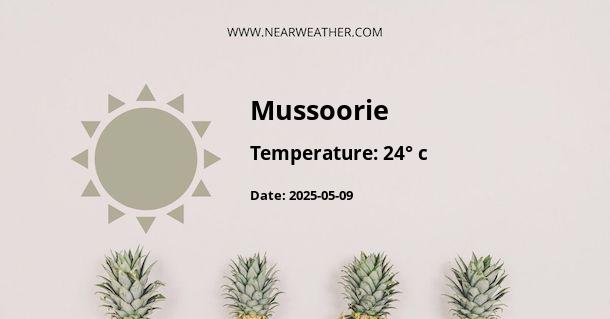 Latest searched locations