Weather
16°
Climate Conditions: clear sky
Humidity: 60%
Wind speed: 6.66 km/h
Wind direction: 347°
Evolution
Daily Weather Forecast Evolution (°C)
Other Information
Timezone: GMT+05:30
More about Kashipur:
Climate and Weather in Kashipur, India
Kashipur is a city located in the Udham Singh Nagar district of the Indian state of Uttarakhand. Situated in the Terai region, Kashipur experiences a diverse and varied climate throughout the year. The city is known for its hot summers, mild winters, and a monsoon season that brings abundant rainfall. Let's explore the climate and weather patterns in Kashipur in more detail.
Temperature
The temperature in Kashipur can vary significantly between seasons. Summers, which last from April to June, are characterized by scorching heat with temperatures often soaring above 40 degrees Celsius (104 degrees Fahrenheit). The city experiences hot and dry winds during this time, making it important to stay hydrated and seek shade.
Winter in Kashipur begins in November and lasts until February. The temperature during this season ranges from 5 to 20 degrees Celsius (41 to 68 degrees Fahrenheit). While the winters are relatively mild compared to other parts of India, it is still advisable to carry warm clothing, especially during the evenings and early mornings when the temperature drops.
Monsoon
Kashipur receives the majority of its annual rainfall during the monsoon season, which typically lasts from July to September. The city experiences heavy downpours and occasional thunderstorms during this time. The average annual rainfall in Kashipur is around 1400 millimeters (55 inches). It is important to note that the monsoon season can bring about localized flooding and waterlogging in some areas, so it is advisable to take precautions and stay informed about weather updates.
Humidity
Kashipur experiences high levels of humidity throughout the year, with the monsoon season being particularly humid. Humidity levels can reach up to 90% during this time, making it feel hotter than the actual temperature. The humidity gradually decreases during the winter months, providing some relief from the heat and making the weather more pleasant.
Wind Patterns
The city of Kashipur experiences different wind patterns throughout the year. During the summer months, hot and dry winds blow from the northwest, bringing a sense of discomfort and increasing the temperature. In winter, the prevailing winds come from the northeast, bringing cooler and relatively drier air.
Sunshine Hours
Kashipur enjoys a significant amount of sunshine throughout the year. The city experiences an average of 8 to 10 hours of sunshine per day, with slightly fewer hours during the monsoon season. The abundance of sunshine makes Kashipur a suitable place for solar energy generation and agricultural activities.
Climate Charts and Data
Average Monthly Temperature in Kashipur

| Month | Max Temperature (°C) | Min Temperature (°C) |
| --- | --- | --- |
| January | 20 | 5 |
| February | 23 | 7 |
| March | 28 | 12 |
| April | 35 | 18 |
| May | 39 | 23 |
| June | 37 | 26 |
| July | 33 | 25 |
| August | 32 | 24 |
| September | 32 | 23 |
| October | 31 | 18 |
| November | 27 | 11 |
| December | 22 | 6 |
The table above showcases the average monthly maximum and minimum temperatures in Kashipur throughout the year. It gives an overview of the temperature ranges one can expect in different seasons.
Best Time to Visit
The best time to visit Kashipur is during the winter season, from November to February, when the weather is mild and pleasant. The temperature during this time is comfortable for outdoor activities and sightseeing. It is advisable to avoid visiting during the scorching summer months, especially if you are not accustomed to high temperatures.
"The climate in Kashipur can be quite extreme, with hot summers and high humidity. It is important to plan your visit accordingly and take necessary precautions to stay comfortable in the weather conditions." - Local Tourism Board
Conclusion
Kashipur experiences a diverse climate with hot summers, mild winters, and a significant monsoon season. The city's weather is characterized by high temperatures during summer, abundant rainfall during the monsoon, and pleasant weather during winter. It is important to consider these weather patterns when planning a visit to Kashipur to ensure a comfortable and enjoyable experience.
FAQ's about Kashipur's Weather:
Q - What is the Latitude and Longitude of Kashipur?
A - Kashipur's Latitude is 29.216669 & Longitude is 78.949997.
Q - What is the weather in Kashipur today?
A - Weather in Kashipur is 16° today.
Q - What is the climatic condition of Kashipur today?
A - Climate Conditions in Kashipur shows clear sky today.
Q - What is the humidity in Kashipur today?
A - Humidity in Kashipur is 60% today.
Q - What is the wind speed in Kashipur today?
A - Wind speed in Kashipur is 6.66 km/h, flowing at 347° wind direction. today.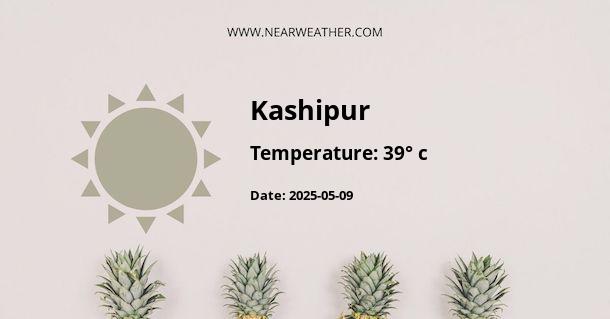 Latest searched locations