Weather
15°
Climate Conditions: mist
Humidity: 82%
Wind speed: 5.4 km/h
Wind direction: 250°
Evolution
Daily Weather Forecast Evolution (°C)
Other Information
Timezone: GMT+05:30
More about Kanpur:
Kanpur is a very important industrial city of Uttar Pradesh, which resides along the banks of Ganges. Kanpur is famous for its textile industry. In terms of population, Kanpur is the twelfth largest city in India. Kanpur is the second-largest city in Uttar Pradesh. Due to its industrial activities, Kanpur is known as the Manchester of India.
Kanpur is dominated by dry winter humid subtropical climate as per Koppen Classification. July gets the highest amount of rainfall in the year with 350 mm. In general, there is a rainfall of about 950 mm around the year. November is the driest month, and winter starts from this month. Winters are generally harsh and dry due to the subtropical location of the town with an average temperature of 10-degree Celsius. January is the coldest month in winter season.
In summers, temperatures can reach up to 45-degree Celsius. May is the warmest month with a temperature of around 46-degree Celsius.
FAQ's about Kanpur's Weather:
Q - What is the weather in Kanpur today?
A - Weather in Kanpur is 15° today.
Q - What is the climatic condition of Kanpur today?
A - Climate Conditions in Kanpur shows mist today.
Q - What is the humidity in Kanpur today?
A - Humidity in Kanpur is 82% today.
Q - What is the wind speed in Kanpur today?
A - Wind speed in Kanpur is 5.4 km/h, flowing at 250° wind direction. today.
Q - What is the Latitude and Longitude of Kanpur?
A - Kanpur's Latitude is 26.466667 & Longitude is 80.349998.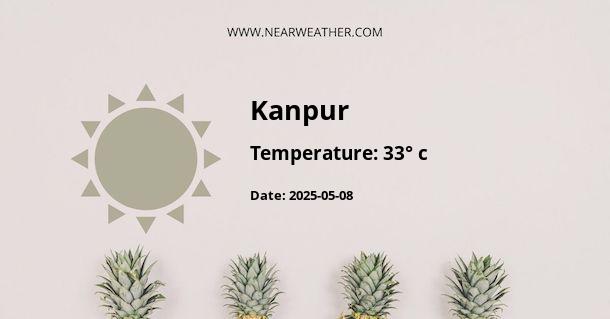 Latest searched locations