Weather
39°
Climate Conditions: scattered clouds
Humidity: 28%
Wind speed: 16.96 km/h
Wind direction: 118°
Evolution
Daily Weather Forecast Evolution (°C)
Other Information
Timezone: GMT+05:30
More about Jodhpur:
The second-largest city of Rajasthan, Jodhpur is called the blue city. The city was once, the capital of the kingdom of Marwar, now in Rajasthan. Meherangarh fort is among the oldest palaces in the city and is one of the most beautifully maintained palaces in the country. One can take a walk into history while taking the tour of the majestic palace. It is the only place in Jodhpur from where the city can be seen painted in blue. Because of its rich history and grand palaces, the city is a huge tourist destination in the country.
Being close to the desert, the climate of the city is hot and semi-arid during the dry season that stretches to a year long. The city witness rains from late June to September. Temperatures remain extreme from March to September, with the city wrapped in hot temperatures for the major part of the year. The temperature in the city ranges between 9-degrees Celsius and 24degrees Celsius in winters and 31-degrees Celsius to 48-degrees Celsius in summers.
FAQ's about Jodhpur's Weather:
Q - What is the weather in Jodhpur today?
A - Weather in Jodhpur is 39° today.
Q - What is the climatic condition of Jodhpur today?
A - Climate Conditions in Jodhpur shows scattered clouds today.
Q - What is the humidity in Jodhpur today?
A - Humidity in Jodhpur is 28% today.
Q - What is the wind speed in Jodhpur today?
A - Wind speed in Jodhpur is 16.96 km/h, flowing at 118° wind direction. today.
Q - What is the Latitude and Longitude of Jodhpur?
A - Jodhpur's Latitude is 26.286667 & Longitude is 73.029999.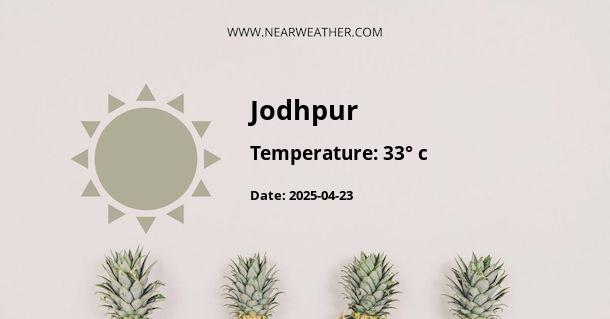 Latest searched locations