Weather
29°
Climate Conditions: overcast clouds
Humidity: 65%
Wind speed: 7.34 km/h
Wind direction: 3°
Evolution
Daily Weather Forecast Evolution (°C)
Other Information
Timezone: GMT+05:30
More about Jaunpur:
Climate and Weather in Jaunpur, India
Jaunpur, a city located in the state of Uttar Pradesh, India, experiences a subtropical climate with distinct seasons throughout the year. The city is known for its historical significance and cultural heritage, attracting tourists from all over the world. Understanding the climate and weather patterns in Jaunpur is essential for travelers and locals alike. Let's explore the climate of Jaunpur and what to expect throughout the year.
Seasons in Jaunpur
Jaunpur experiences four distinct seasons: winter, summer, monsoon, and post-monsoon. Each season brings its own unique weather characteristics, making Jaunpur a diverse city to visit throughout the year.
1. Winter (November to February)
Winters in Jaunpur are relatively mild and pleasant, with temperatures ranging from 10°C (50°F) to 25°C (77°F). The months of December and January are considered the coldest, with nighttime temperatures sometimes dropping to around 5°C (41°F). It is advisable to carry light woolen clothing during this season to stay comfortable during the colder nights.
2. Summer (March to June)
Summers in Jaunpur are hot and dry, with temperatures soaring to as high as 45°C (113°F) during the peak months of May and June. The average daytime temperatures range from 30°C (86°F) to 40°C (104°F). It is recommended to carry lightweight and breathable clothing, along with sunscreen and a hat, to protect yourself from the scorching sun.
3. Monsoon (July to September)
Monsoon season in Jaunpur brings relief from the scorching heat, with moderate to heavy rainfall occurring from July to September. The city receives an average of 800mm to 1000mm (31 to 39 inches) of rainfall during this period. The temperature drops to around 25°C (77°F) during the day, providing a respite from the summer heat. Carrying an umbrella or raincoat is recommended to stay dry during the frequent showers.
4. Post-Monsoon (October to November)
The post-monsoon season in Jaunpur is characterized by mild temperatures and occasional rainfall. The weather is pleasant, with daytime temperatures ranging from 25°C (77°F) to 30°C (86°F). It is a great time to visit Jaunpur, as the city is adorned with lush greenery and the weather is favorable for outdoor activities.
Annual Weather Averages
Here are the average temperatures and precipitation levels in Jaunpur throughout the year:
| Month | Temperature (°C) | Precipitation (mm) |
| --- | --- | --- |
| January | 14 - 25 | 15 |
| February | 16 - 27 | 9 |
| March | 21 - 33 | 6 |
| April | 26 - 38 | 4 |
| May | 29 - 41 | 8 |
| June | 30 - 40 | 135 |
| July | 28 - 35 | 315 |
| August | 27 - 34 | 275 |
| September | 26 - 34 | 173 |
| October | 23 - 33 | 34 |
| November | 18 - 29 | 2 |
| December | 14 - 25 | 9 |
Source: World Weather Online
Best Time to Visit Jaunpur
The best time to visit Jaunpur is during the winter season, from November to February. The weather during this time is pleasant, with mild temperatures and minimal rainfall. It allows visitors to explore the city's attractions comfortably without the scorching heat of summer or the heavy rains of the monsoon season.
However, if you enjoy the lush greenery and the romantic ambiance of the monsoon, visiting Jaunpur during the monsoon season can be a delightful experience. The city comes to life with vibrant colors, and the surrounding landscapes flourish with fresh vegetation.
Conclusion
Jaunpur experiences a subtropical climate with distinct seasons. Winters are mild, summers are hot and dry, monsoons bring moderate to heavy rainfall, and the post-monsoon season is pleasant. Understanding the climate and weather patterns in Jaunpur will help you plan your visit accordingly and make the most of your time in this historically significant city.
Whether you prefer the mild winters, the scorching summers, or the vibrant monsoons, Jaunpur has something to offer throughout the year. So pack your bags accordingly and embark on a memorable journey to Jaunpur, India!
FAQ's about Jaunpur's Weather:
Q - What is the Latitude and Longitude of Jaunpur?
A - Jaunpur's Latitude is 25.733330 & Longitude is 82.683327.
Q - What is the weather in Jaunpur today?
A - Weather in Jaunpur is 29° today.
Q - What is the climatic condition of Jaunpur today?
A - Climate Conditions in Jaunpur shows overcast clouds today.
Q - What is the humidity in Jaunpur today?
A - Humidity in Jaunpur is 65% today.
Q - What is the wind speed in Jaunpur today?
A - Wind speed in Jaunpur is 7.34 km/h, flowing at 3° wind direction. today.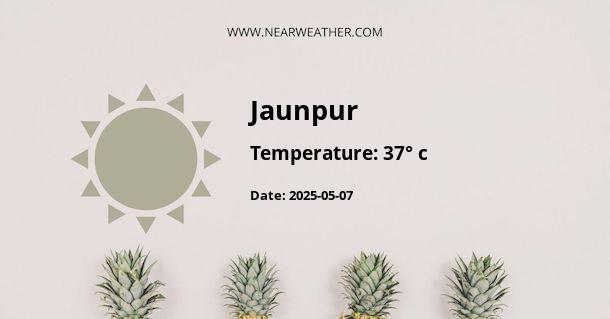 Latest searched locations