Weather
14°
Climate Conditions: mist
Humidity: 94%
Wind speed: 6.55 km/h
Wind direction: 271°
Evolution
Daily Weather Forecast Evolution (°C)
Other Information
Timezone: GMT+05:30
More about Faridabad:
The Haryana city of Faridabad is the most densely populated in the state. The city is a leading industrial center and forms the part of NCR bordering Delhi. The Yamuna river flows in the city, and the river forms the eastern boundary with the state of Uttar Pradesh, separating the two.
The newly developed industrial and residential part of the city is referred to as Greater Faridabad. The city is a major industrial hub of the state of Haryana and serves as an essential source of employment for people.
Being in Northern India, the city experiences a hot semi-arid climate and is at the borderline with a dry-winter humid subtropical climate. The monsoons advance between late March to late June. The monsoons are dangerously humid with erratic rainfall that is mostly heavy. The summers are hotter, and the winters are colder. The average temperature ranges between 8-degree Celsius and 39-degree Celsius.
FAQ's about Faridabad's Weather:
Q - What is the weather in Faridabad today?
A - Weather in Faridabad is 14° today.
Q - What is the climatic condition of Faridabad today?
A - Climate Conditions in Faridabad shows mist today.
Q - What is the humidity in Faridabad today?
A - Humidity in Faridabad is 94% today.
Q - What is the wind speed in Faridabad today?
A - Wind speed in Faridabad is 6.55 km/h, flowing at 271° wind direction. today.
Q - What is the Latitude and Longitude of Faridabad?
A - Faridabad's Latitude is 28.433332 & Longitude is 77.316666.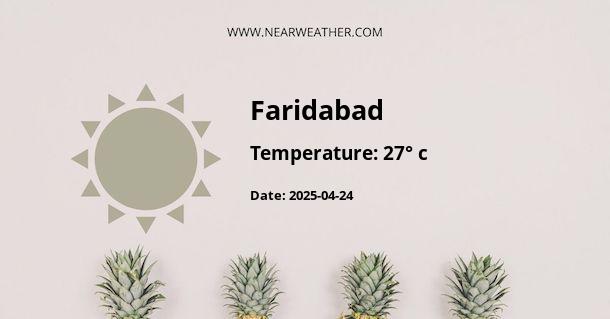 Latest searched locations