Weather
30°
Climate Conditions: broken clouds
Humidity: 67%
Wind speed: 21.82 km/h
Wind direction: 200°
Evolution
Daily Weather Forecast Evolution (°C)
Other Information
Timezone: GMT+05:30
More about Digha:
Digha is a seaside resort town located in the state of West Bengal, India. It is situated on the Bay of Bengal and is one of the most popular tourist destinations in West Bengal. Digha is known for its beautiful beaches, scenic views, and its laid-back atmosphere. It also has many attractions like the Digha Beach, Shankarpur Beach, Amarabati Park, Udaipur Beach, and Marine Aquarium. The climate in Digha is tropical with hot and humid summers and cool and pleasant winters. The average temperature in summer is around 30°C and in winter it is around 17°C. The average rainfall is around 1250mm annually. The best time to visit Digha is during the winter months from October to March.
FAQ's about Digha's Weather:
Q - What is the weather in Digha today?
A - Weather in Digha is 30° today.
Q - What is the climatic condition of Digha today?
A - Climate Conditions in Digha shows broken clouds today.
Q - What is the humidity in Digha today?
A - Humidity in Digha is 67% today.
Q - What is the wind speed in Digha today?
A - Wind speed in Digha is 21.82 km/h, flowing at 200° wind direction. today.
Q - What is the Latitude and Longitude of Digha?
A - Digha's Latitude is 21.683331 & Longitude is 87.550003.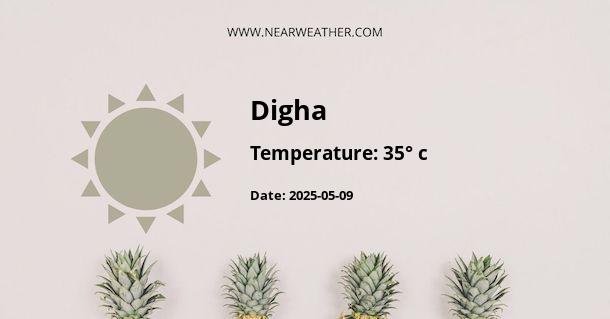 Latest searched locations