Weather
8°
Climate Conditions: overcast clouds
Humidity: 92%
Wind speed: 8.93 km/h
Wind direction: 331°
Evolution
Daily Weather Forecast Evolution (°C)
Other Information
Timezone: GMT+05:30
More about Darjeeling:
Darjeeling is a beautiful hill station in India's West Bengal state. Darjeeling is located in the Lesser Himalayan region of the Himalayas, with the elevation of 2000 m above the sea. Darjeeling is a famous tourist destination and famous for its narrow-gauge Darjeeling Himalayan Railway, a UNESCO World Heritage Site. Tea plantations are the unique selling point of the city. The world's third-highest mountain peak, the Kanchenjunga peak, is visible from the hill station.
According to the Koppen Climate Classification, Darjeeling is dominated by a temperate climate due to its location. This city receives an ample amount of rainfall in the monsoon season, which amounts to around more than 2500 mm. July gets the most of the rain in the year. The climate is pleasant around the year due to the temperate region. January is the coldest month of the year, with a mean temperature of 8-degree Celsius. August is the hottest month of the year, with the mean temperature of 16-degree celsius.
FAQ's about Darjeeling's Weather:
Q - What is the weather in Darjeeling today?
A - Weather in Darjeeling is 8° today.
Q - What is the climatic condition of Darjeeling today?
A - Climate Conditions in Darjeeling shows overcast clouds today.
Q - What is the humidity in Darjeeling today?
A - Humidity in Darjeeling is 92% today.
Q - What is the wind speed in Darjeeling today?
A - Wind speed in Darjeeling is 8.93 km/h, flowing at 331° wind direction. today.
Q - What is the Latitude and Longitude of Darjeeling?
A - Darjeeling's Latitude is 27.033331 & Longitude is 88.266670.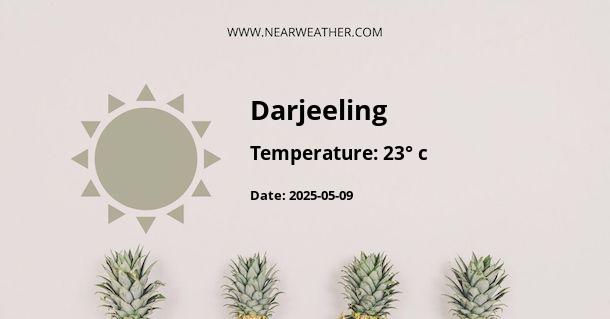 Latest searched locations