Weather
23°
Climate Conditions: clear sky
Humidity: 57%
Wind speed: 11.66 km/h
Wind direction: 264°
Evolution
Daily Weather Forecast Evolution (°C)
Other Information
Timezone: GMT+05:30
More about Nicosia:
Overview of Nicosia District, Cyprus
Nicosia, the capital city of Cyprus, is situated in the heart of the island, within the district of the same name. Known for its rich history, vibrant culture, and diverse architecture, the city also hosts a distinctive climate that is typically Mediterranean, characterized by hot summers and mild winters.
Climate and Weather in Nicosia District
Nicosia District's climate generally falls under the category of a hot semi-arid climate (BSh). This classification is based on the Köppen-Geiger climate classification system, one of the most widely used methods for identifying and grouping the world's climates. The hot semi-arid climate is characterized by both Mediterranean (Csa) and semi-arid (BSh) climates, with long, hot summers and short, mild winters.
Nicosia's Year-round Weather
Understanding the weather patterns in Nicosia is essential for planning your visit, or for locals to plan their daily activities. The following sections provide detailed descriptions of the weather conditions prevalent throughout the year.
Spring (March to May)
Spring in Nicosia is marked by moderate temperatures and relatively low rainfall. The average high temperatures range from 19°C (66°F) in March to 28°C (82°F) in May, while the average lows range from 9°C (48°F) to 15°C (59°F). Rainfall is typically low, with May being the driest month of the season.
Summer (June to August)
Summer in Nicosia is characterized by high temperatures, with the mercury often soaring beyond 30°C (86°F). July and August are the hottest months, with average highs reaching up to 37°C (99°F). The summer months also see very little rainfall, making them the driest period of the year.
Autumn (September to November)
Autumn sees a gradual decrease in temperatures, with average highs falling from 33°C (91°F) in September to 20°C (68°F) in November. Rainfall begins to increase in October, marking the onset of the wetter part of the year.
Winter (December to February)
Winter in Nicosia is mild and relatively wet. Average high temperatures range from 16°C (61°F) to 17°C (63°F), and average lows from 6°C (43°F) to 8°C (46°F). December, January, and February are the wettest months, with an average precipitation of 50mm (2 inches).
Weather Chart for Nicosia District
The following table provides a month-by-month breakdown of the average high and low temperatures and precipitation in Nicosia District:
```html
| Month | Average High (°C) | Average Low (°C) | Average Precipitation (mm) |
| --- | --- | --- | --- |
| January | 16 | 6 | 50 |
```
Conclusion
In conclusion, Nicosia District offers a mix of high summer temperatures and mild winters, making it a year-round destination. However, visitors should take note of the seasonal variations in weather to ensure a comfortable stay.
Whether you are planning a trip to explore the rich cultural heritage of Nicosia, or you are a local resident looking to plan your activities, understanding the climate and weather patterns of the area is crucial. With its hot summers and mild winters, Nicosia offers a unique blend of Mediterranean and semi-arid climates that can be enjoyed all year round.
FAQ's about Nicosia's Weather:
Q - What is the Latitude and Longitude of Nicosia?
A - Nicosia's Latitude is 35.066669 & Longitude is 33.200001.
Q - What is the weather in Nicosia today?
A - Weather in Nicosia is 23° today.
Q - What is the climatic condition of Nicosia today?
A - Climate Conditions in Nicosia shows clear sky today.
Q - What is the humidity in Nicosia today?
A - Humidity in Nicosia is 57% today.
Q - What is the wind speed in Nicosia today?
A - Wind speed in Nicosia is 11.66 km/h, flowing at 264° wind direction. today.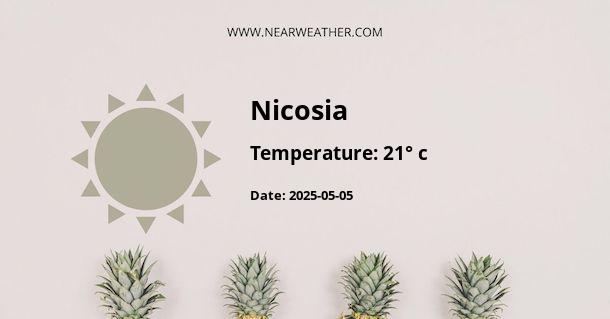 Latest searched locations