Weather
24°
Climate Conditions: light rain
Humidity: 93%
Wind speed: 8.17 km/h
Wind direction: 31°
Evolution
Daily Weather Forecast Evolution (°C)
Other Information
Timezone: GMT+05:30
More about Muheza:
A Comprehensive Weather Guide to Muheza, Tanzania
Muheza is a vibrant town located in the Tanga Region of Tanzania. It is renowned for its distinctive climate and weather patterns that contribute to the region's rich biodiversity and agricultural potential. Nested near the Indian Ocean and close to the equator, Muheza experiences a tropical climate that remains relatively constant throughout the year, with slight fluctuations in precipitation and temperature.
Climate Overview
Muheza falls under the Aw climate classification according to the Köppen and Geiger system. This designation stands for a tropical savanna climate with a dry winter season. The town's proximity to the equator and the Indian Ocean significantly influences its weather patterns, resulting in a warm, humid climate year-round.
"The average annual temperature in Muheza is around 25.7 °C, while the annual precipitation averages 1107 mm."
Monthly Weather Breakdown
While the climate in Muheza remains relatively constant throughout the year, the town does experience slight variations in weather depending on the month. Here's an in-depth monthly breakdown:
| Month | Average Temperature (°C) | Precipitation (mm) |
| --- | --- | --- |
| January | 26.5 | 79 |
| February | 26.6 | 66 |
| March | 26.5 | 120 |
| April | 25.8 | 254 |
| May | 25.3 | 254 |
| June | 24.5 | 43 |
| July | 24.2 | 25 |
| August | 24.5 | 25 |
| September | 24.9 | 28 |
| October | 25.5 | 51 |
| November | 25.9 | 117 |
| December | 26.4 | 144 |
Seasonal Weather Patterns
Muheza experiences two main seasonal weather patterns: a wet season and a dry season.
The Wet Season: This typically runs from March to May and is characterized by the highest rainfall levels of the year, with April and May being the wettest months. The weather during this time is generally warm and humid, with temperatures averaging around 25.3-26.5°C.
The Dry Season: This extends from June to August, with the town experiencing the lowest levels of rainfall during this time. Despite being the "dry" season, the weather remains warm and humid, although temperatures can drop slightly, averaging around 24.2-24.5°C.
Conclusion
The town of Muheza, with its tropical savanna climate, offers a unique blend of warm, humid weather with distinct wet and dry seasons. These conditions foster a rich array of flora and fauna, making it a biodiversity hotspot. It's also crucial for agriculture, contributing to the town's thriving farming industry. Understanding Muheza's weather patterns can enhance your experience, whether you're planning a visit or looking to invest in the region's promising agricultural sector.
FAQ's about Muheza's Weather:
Q - What is the Latitude and Longitude of Muheza?
A - Muheza's Latitude is -5.166670 & Longitude is 38.783329.
Q - What is the weather in Muheza today?
A - Weather in Muheza is 24° today.
Q - What is the climatic condition of Muheza today?
A - Climate Conditions in Muheza shows light rain today.
Q - What is the humidity in Muheza today?
A - Humidity in Muheza is 93% today.
Q - What is the wind speed in Muheza today?
A - Wind speed in Muheza is 8.17 km/h, flowing at 31° wind direction. today.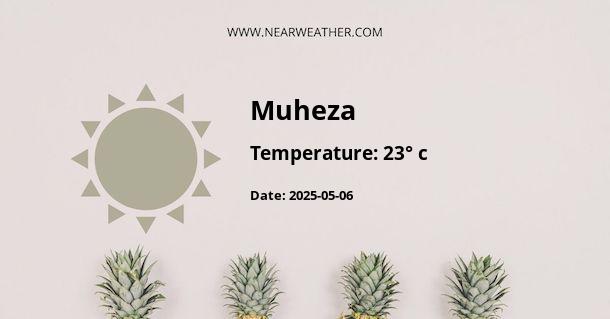 Latest searched locations