Weather
21°
Climate Conditions: clear sky
Humidity: 68%
Wind speed: 8.06 km/h
Wind direction: 293°
Evolution
Daily Weather Forecast Evolution (°C)
Other Information
Timezone: GMT+05:30
More about Bukoba:
Overview of Bukoba, Tanzania
Bukoba is a vibrant town located in the northwestern region of Tanzania, east Africa. Nestled on the western shore of Lake Victoria, the town is the capital of the Kagera region. With a population of approximately 128,796 people, Bukoba is the second largest town in the lake region after Mwanza.
Climate of Bukoba, Tanzania
Bukoba experiences a tropical rainforest climate (Af in the Köppen-Geiger climate classification). This climate is characterized by high rainfall and relatively stable temperatures throughout the year. The town's proximity to the equator and Lake Victoria significantly influences its weather patterns.
"The climate in Bukoba is warm, oppressive, and overcast. Over the course of the year, the temperature typically varies from 62°F to 82°F and is rarely below 59°F or above 85°F." - Best Time to Visit Bukoba, Tanzania, Climate.com
Temperature in Bukoba, Tanzania
In Bukoba, the average annual temperature is approximately 20.9 °C | 69.7 °F. The warmest month is February, with an average high-temperature of 29.1°C (84.4°F) and an average low-temperature of 17.8°C (64°F). The coldest month is July, with an average high-temperature of 26.6°C (79.9°F) and an average low-temperature of 15.3°C (59.5°F). Despite these variations, temperatures in Bukoba are generally moderate and pleasant, making it a suitable destination for tourists year-round.
Annual Rainfall in Bukoba, Tanzania
Rainfall in Bukoba is significant, with precipitation even during the driest month. The average annual rainfall is around 1438 mm | 56.6 inches. November is the wettest month with an average of 193 mm | 7.6 inches of rainfall. June, on the other hand, records the least precipitation with an average of 43 mm | 1.7 inches.
Seasons in Bukoba, Tanzania
Bukoba, like other regions in Tanzania, experiences two main seasons - wet and dry. However, the high annual rainfall means that the town tends to be more humid and wetter than other parts of the country.
The Wet Season: The wet season in Bukoba runs from March to May and from October to December. During these periods, the town experiences its highest rainfall, making the surrounding landscapes lush and green.
The Dry Season: The dry season occurs from January to February and from June to September. Despite being the "dry" season, rainfall can still occur, but it's generally less frequent and intense.
Best Time to Visit Bukoba, Tanzania
The best time to visit Bukoba largely depends on what you plan to do during your visit. For general outdoor tourist activities, the warm season from June to September is considered the best time. During this period, the weather is relatively dry, and the skies are partly cloudy. However, if you're interested in agriculture and want to see the coffee and banana plantations in full bloom, the wet seasons are the best time to visit.
Weather Phenomenon in Bukoba, Tanzania
Bukoba, being close to the Lake Victoria, is sometimes subject to lake-effect rains. This phenomenon occurs when cold air masses move over warmer lake waters, leading to condensation and precipitation. As a result, the town experiences higher rainfall compared to regions further away from the lake.
Conclusion
In conclusion, Bukoba's tropical rainforest climate, characterized by high rainfall and moderate temperatures, provides a unique weather experience. Its proximity to Lake Victoria not only influences the town's weather patterns but also adds to its scenic beauty. Whether you're planning a trip for tourism or agricultural interests, understanding the climate of Bukoba can help you make the most of your visit.
FAQ's about Bukoba's Weather:
Q - What is the Latitude and Longitude of Bukoba?
A - Bukoba's Latitude is -1.331670 & Longitude is 31.812220.
Q - What is the weather in Bukoba today?
A - Weather in Bukoba is 21° today.
Q - What is the climatic condition of Bukoba today?
A - Climate Conditions in Bukoba shows clear sky today.
Q - What is the humidity in Bukoba today?
A - Humidity in Bukoba is 68% today.
Q - What is the wind speed in Bukoba today?
A - Wind speed in Bukoba is 8.06 km/h, flowing at 293° wind direction. today.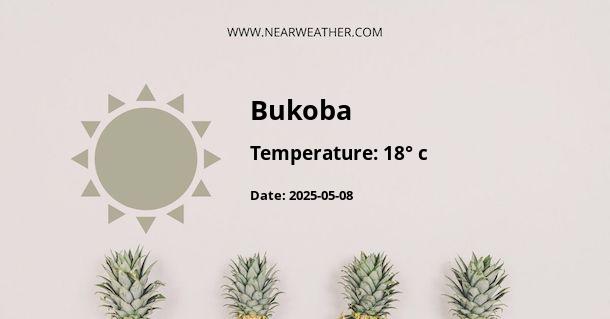 Latest searched locations