Weather
22°
Climate Conditions: clear sky
Humidity: 38%
Wind speed: 2.59 km/h
Wind direction: 1°
Evolution
Daily Weather Forecast Evolution (°C)
Other Information
Timezone: GMT+05:30
More about Ar Rabbah:
Overview of Ar Rabbah, Jordan
Ar Rabbah is a town located in the Karak Governorate of Jordan. This historic town, nestled amongst the Jordanian highlands, offers a unique climate that is influenced by both its altitude and its geographical position within the region.
Climate of Ar Rabbah
Ar Rabbah experiences a Mediterranean climate with hot, dry summers and mild, wet winters. This climate is characterized by a distinctive seasonal change in weather patterns, influenced by the town's location in the highlands of Jordan.
Temperature
The average annual temperature in Ar Rabbah is around 16.8°C. The warmest month is usually July, with an average high of around 30°C. The coolest month is January, with an average low of around 4°C.
The temperature in Ar Rabbah notably varies from 4°C to 30°C over the course of a year.
Rainfall
Ar Rabbah experiences the most rainfall in December with an average of 102.2mm of rain. The driest month is June with virtually no rainfall.
December is the most rainy period in Ar Rabbah, while June is the driest, making it an ideal time for outdoor activities.
Humidity
The average annual relative humidity is 61.6% and does not vary significantly over the year. The most humid month is January (66.9%), and the least humid month is August (54.8%).
Seasonal Weather in Ar Rabbah
Spring (March - May)
Spring is the second busiest time for tourism in Ar Rabbah, so lodging and other accommodations may slightly cost more. The weather is relatively cool with temperatures ranging from 20-27°C, making it a great time to explore the city.
Summer (June - August)
Summers in Ar Rabbah are hot and dry, with temperatures often exceeding 30°C. This is the warmest season and has the least amount of rainfall.
Autumn (September - November)
Autumn sees a gradual decrease in temperature, ranging from 15-25°C. Rainfall begins to increase during this season, marking the start of the wetter part of the year.
Winter (December - February)
Winters in Ar Rabbah are mild and wet. This is the coolest season with the highest amount of rainfall. Temperatures range from 4-15°C.
Best Time to Visit Ar Rabbah
The best time to visit Ar Rabbah for warm-weather activities is from early June to mid-September.
Conclusion
Ar Rabbah, with its Mediterranean climate, offers a unique weather experience with hot, dry summers and mild, wet winters. Whether you're planning to visit in the warm summer months or the cooler, wetter winter season, Ar Rabbah provides a fascinating blend of weather conditions that are sure to make your visit memorable.
FAQ's about Ar Rabbah's Weather:
Q - What is the Latitude and Longitude of Ar Rabbah?
A - Ar Rabbah's Latitude is 31.269230 & Longitude is 35.738289.
Q - What is the weather in Ar Rabbah today?
A - Weather in Ar Rabbah is 22° today.
Q - What is the climatic condition of Ar Rabbah today?
A - Climate Conditions in Ar Rabbah shows clear sky today.
Q - What is the humidity in Ar Rabbah today?
A - Humidity in Ar Rabbah is 38% today.
Q - What is the wind speed in Ar Rabbah today?
A - Wind speed in Ar Rabbah is 2.59 km/h, flowing at 1° wind direction. today.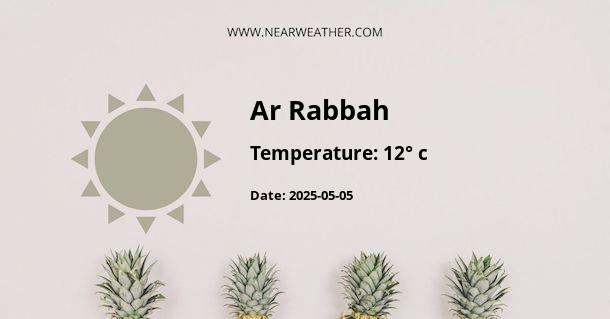 Latest searched locations