Weather
18°
Climate Conditions: overcast clouds
Humidity: 88%
Wind speed: 19.69 km/h
Wind direction: 140°
Evolution
Daily Weather Forecast Evolution (°C)
Other Information
Timezone: GMT+05:30
More about Parga:
Overview
Parga is a picturesque town located in the northwestern part of Greece. It is nestled between the Ionian Sea and the mountains, providing it with a unique climate that is a blend of Mediterranean and subtropical conditions. This article will provide an in-depth exploration of Parga's weather and climatic conditions throughout the year.
Climate Overview
Parga experiences a Mediterranean climate with a hint of a subtropical influence. This means that the summers are hot and dry, while the winters are mild and wet. The average annual temperature is around 18.5°C. The warmest month is typically August, with an average high of 31°C, while the coldest is January, with an average low of 5°C.
"Parga's Mediterranean climate, characterized by hot summers and mild winters, is a significant factor that contributes to its appeal as a tourist destination."
Seasonal Breakdown
Spring (March - May)
Spring in Parga sees a gradual increase in temperatures from an average of 13°C in March to about 21°C in May. Rainfall starts to decrease, making it an excellent time for outdoor activities.
Summer (June - August)
Summers in Parga are typically hot and dry. The temperatures range from 25°C to 31°C. The sea temperature also rises, making it perfect for swimming and other water activities.
Autumn (September - November)
Autumn is characterized by a gradual decrease in temperatures and an increase in rainfall. The temperatures range from 20°C in September to about 13°C in November.
Winter (December - February)
Winters are relatively mild in Parga with temperatures averaging between 5°C and 13°C. Rainfall is at its peak during these months, which contributes to the lush greenery of the region.
Monthly Weather Statistics
| Month | Average High (°C) | Average Low (°C) | Sea Temperature (°C) | Rainfall (mm) |
| --- | --- | --- | --- | --- |
| January | 12 | 5 | 16 | 80 |
Climate Factors
The geographical location and topography of Parga significantly influence its climate. Its proximity to the Ionian Sea results in warm sea surface temperatures, which contribute to the region's overall mild climate. The mountains surrounding Parga also play a role, providing a barrier that helps moderate the climate.
Conclusion
Overall, Parga's climate makes it an ideal destination for both summer and winter holidays. The hot, dry summers are perfect for beachgoers and water sports enthusiasts, while the mild, wet winters offer unique opportunities for nature lovers and those seeking a tranquil getaway. Regardless of the season, Parga's climate is sure to provide a comfortable and enjoyable stay.
"Whether you're a sun-seeker or a nature enthusiast, Parga's unique and appealing climate ensures a memorable holiday experience."
FAQ's about Parga's Weather:
Q - What is the Latitude and Longitude of Parga?
A - Parga's Latitude is 39.283058 & Longitude is 20.396391.
Q - What is the weather in Parga today?
A - Weather in Parga is 18° today.
Q - What is the climatic condition of Parga today?
A - Climate Conditions in Parga shows overcast clouds today.
Q - What is the humidity in Parga today?
A - Humidity in Parga is 88% today.
Q - What is the wind speed in Parga today?
A - Wind speed in Parga is 19.69 km/h, flowing at 140° wind direction. today.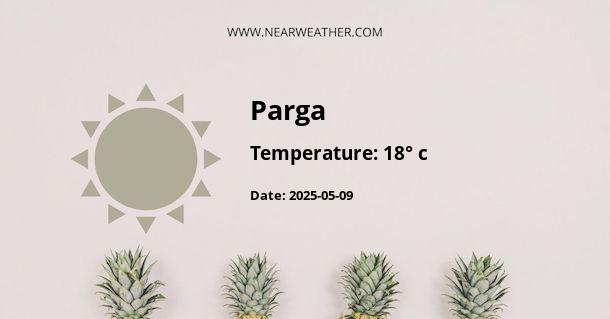 Latest searched locations