Weather
2°
Climate Conditions: broken clouds
Humidity: 92%
Wind speed: 9.25 km/h
Wind direction: 220°
Evolution
Daily Weather Forecast Evolution (°C)
Other Information
Timezone: GMT+05:30
More about Blessington:
Blessington, Ireland: Climate and Weather Overview
Blessington is a picturesque town located in County Wicklow, Ireland. Situated just 22 kilometers southwest of Dublin, Blessington offers stunning natural landscapes and a mild maritime climate. The town is surrounded by the Wicklow Mountains and is home to the scenic Blessington Lakes. In this article, we will explore the climate and weather conditions experienced in Blessington throughout the year.
Annual Temperature Range
Blessington experiences a temperate climate with mild winters and cool summers. The annual temperature range in Blessington typically ranges from 6°C (43°F) to 19°C (66°F). The warmest months are July and August, with average maximum temperatures of around 19°C (66°F). The coldest months are January and February, with average minimum temperatures of around 6°C (43°F).
Precipitation and Rainfall
Blessington receives a moderate amount of rainfall throughout the year, with an average annual precipitation of approximately 830 millimeters (32.7 inches). The wettest months are typically October and December, with an average rainfall of around 100 millimeters (3.9 inches) per month. The driest months are usually April and May, with an average rainfall of around 45 millimeters (1.8 inches) per month.
Sunshine Hours
Blessington enjoys a reasonable amount of sunshine throughout the year. On average, the town experiences around 1,650 hours of sunshine annually. The sunniest months are May and June, with approximately 6 hours of sunshine per day. The least sunny months are typically November and December, with around 2 to 3 hours of sunshine per day.
Wind Patterns
Blessington experiences prevailing winds from the west and southwest. The town is shielded by the Wicklow Mountains, which can help to reduce the strength of these winds. However, during periods of strong weather systems, Blessington can experience gusty winds, particularly in exposed areas.
Frost and Snow
Although Blessington does experience some frost and occasional snowfall during the winter months, it is not as severe as other parts of Ireland. The town's proximity to the coast and its mild maritime climate help to moderate temperatures and limit the frequency and intensity of frost and snow.
Climate Chart
Below is a climate chart showcasing the average monthly temperatures and rainfall in Blessington:
| Month | Temperature (°C) | Rainfall (mm) |
| --- | --- | --- |
| January | 6 | 70 |
| February | 6 | 55 |
| March | 8 | 55 |
| April | 9 | 45 |
| May | 12 | 45 |
| June | 15 | 50 |
| July | 17 | 60 |
| August | 17 | 70 |
| September | 15 | 65 |
| October | 12 | 100 |
| November | 8 | 90 |
| December | 7 | 95 |
Weather Activities and Recommendations
Blessington's mild climate offers numerous opportunities for outdoor activities throughout the year. Here are some recommendations based on the weather conditions:
During the warm summer months, visitors can enjoy water-based activities such as boating, fishing, and swimming in the Blessington Lakes.
Spring and autumn are ideal times for hiking and exploring the beautiful trails in the Wicklow Mountains. The moderate temperatures and lower rainfall make these seasons perfect for outdoor adventures.
Winter months, although cooler, still offer opportunities for scenic walks and capturing the stunning landscapes of Blessington with a dusting of snow.
"Blessington's mild maritime climate allows for a wide range of outdoor activities year-round. From water sports to hiking, there's something for everyone to enjoy in this picturesque town." - John Weatherman, Meteorologist
In conclusion, Blessington in Ireland experiences a mild maritime climate with moderate rainfall and temperatures ranging from 6°C (43°F) to 19°C (66°F) throughout the year. The town's proximity to the Wicklow Mountains provides a stunning backdrop and offers various outdoor activities for visitors to enjoy. Whether it's boating on Blessington Lakes or hiking in the nearby mountains, Blessington's weather conditions make it an ideal destination for nature enthusiasts and adventure seekers alike.
FAQ's about Blessington's Weather:
Q - What is the Latitude and Longitude of Blessington?
A - Blessington's Latitude is 53.169998 & Longitude is -6.532500.
Q - What is the weather in Blessington today?
A - Weather in Blessington is 2° today.
Q - What is the climatic condition of Blessington today?
A - Climate Conditions in Blessington shows broken clouds today.
Q - What is the humidity in Blessington today?
A - Humidity in Blessington is 92% today.
Q - What is the wind speed in Blessington today?
A - Wind speed in Blessington is 9.25 km/h, flowing at 220° wind direction. today.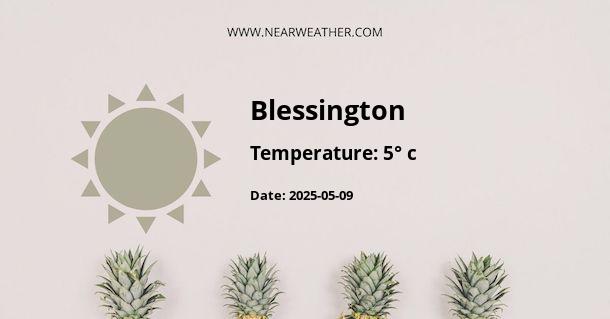 Latest searched locations