Weather
15°
Climate Conditions: clear sky
Humidity: 52%
Wind speed: 6.3 km/h
Wind direction: 196°
Evolution
Daily Weather Forecast Evolution (°C)
Other Information
Timezone: GMT+05:30
More about Khymchyn:
Climate and Weather in Khymchyn, Ukraine
Located in the Ivano-Frankivsk Oblast region of Ukraine, Khymchyn experiences a continental climate with distinct seasons and varying weather patterns throughout the year. The region is known for its picturesque landscapes and rich cultural heritage. Understanding the climate and weather of Khymchyn can help visitors and locals plan their activities and make the most of their time in this beautiful area.
Seasonal Overview
Khymchyn experiences four distinct seasons: spring, summer, autumn, and winter. Each season brings its own unique weather conditions and characteristics.
Spring (March to May)
Spring in Khymchyn is characterized by mild temperatures, though it can still be quite chilly in March. Average temperatures gradually increase throughout the season, ranging from 5°C (41°F) in March to 18°C (64°F) in May. This is also the wettest time of the year, with rainfall increasing as the season progresses. Spring is a beautiful time to visit Khymchyn, as nature awakens and the surrounding countryside becomes lush and green.
Summer (June to August)
Summer in Khymchyn is warm and pleasant, with average temperatures ranging from 20°C (68°F) in June to 24°C (75°F) in August. July is usually the warmest month, with temperatures occasionally reaching 30°C (86°F) or higher. The region experiences a moderate amount of rainfall during the summer months, making it a great time to explore the outdoors and enjoy activities such as hiking, biking, and picnicking.
Autumn (September to November)
Autumn in Khymchyn is known for its breathtaking foliage as the surrounding forests transform into a vibrant display of red, orange, and yellow hues. The temperatures begin to cool down, with average highs ranging from 16°C (61°F) in September to 8°C (46°F) in November. It's also a relatively dry season, with rainfall decreasing compared to the summer months. Autumn is a popular time for visitors to experience the stunning beauty of Khymchyn's landscapes.
Winter (December to February)
Winter in Khymchyn is cold and snowy, creating a picturesque winter wonderland. Average temperatures range from -5°C (23°F) in December to -8°C (17°F) in February, with occasional drops below freezing. The region receives a significant amount of snowfall, making it an ideal destination for winter sports enthusiasts. The snowy landscapes and charming villages provide a magical setting for winter activities such as skiing, snowboarding, and snowshoeing.
Annual Weather Averages
Here is a table summarizing the average monthly temperatures and rainfall in Khymchyn:
| Month | Average Temperature (°C) | Average Rainfall (mm) |
| --- | --- | --- |
| January | -6 | 40 |
| February | -5 | 35 |
| March | 2 | 40 |
| April | 9 | 50 |
| May | 14 | 70 |
| June | 18 | 80 |
| July | 20 | 80 |
| August | 19 | 70 |
| September | 15 | 60 |
| October | 9 | 60 |
| November | 2 | 40 |
| December | -4 | 40 |
These averages provide a general overview of the climate in Khymchyn, but it's important to note that weather patterns can vary from year to year.
Weather Highlights and Tips
Here are some additional weather highlights and tips for visiting Khymchyn:
In winter, be prepared for cold temperatures and pack warm clothing, including hats, gloves, and thermal layers. The snowy landscapes offer beautiful photo opportunities and a chance to enjoy winter sports.
Spring and autumn are ideal times for hiking and exploring the region's natural beauty. However, be prepared for some rain during these seasons and bring appropriate rain gear.
Summer is a popular time for outdoor activities, so make sure to pack sunscreen, hats, and lightweight clothing to protect yourself from the sun. It's also a good idea to have insect repellent on hand, especially if you plan to spend time in wooded areas.
Conclusion
Khymchyn experiences a continental climate with distinct seasons, offering a range of weather conditions throughout the year. From snowy winters to colorful autumns and mild summers, each season brings its own charm to this beautiful region of Ukraine. Whether you enjoy winter sports, hiking, or simply immersing yourself in nature's beauty, Khymchyn has something to offer throughout the year.
FAQ's about Khymchyn's Weather:
Q - What is the Latitude and Longitude of Khymchyn?
A - Khymchyn's Latitude is 48.386391 & Longitude is 25.148029.
Q - What is the weather in Khymchyn today?
A - Weather in Khymchyn is 15° today.
Q - What is the climatic condition of Khymchyn today?
A - Climate Conditions in Khymchyn shows clear sky today.
Q - What is the humidity in Khymchyn today?
A - Humidity in Khymchyn is 52% today.
Q - What is the wind speed in Khymchyn today?
A - Wind speed in Khymchyn is 6.3 km/h, flowing at 196° wind direction. today.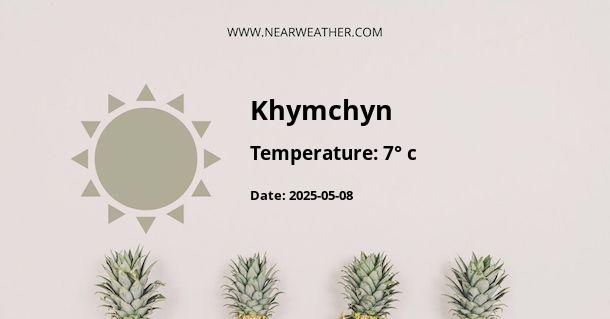 Latest searched locations