Weather
16°
Climate Conditions: clear sky
Humidity: 52%
Wind speed: 8.82 km/h
Wind direction: 142°
Evolution
Daily Weather Forecast Evolution (°C)
Other Information
Timezone: GMT+05:30
More about Krynice:
Climate and Weather in Krynice, Poland
Krynice is a beautiful town located in the Subcarpathian Voivodeship of Poland. It is known for its stunning natural landscapes, charming architecture, and rich cultural heritage. In order to fully appreciate the beauty and plan your visit accordingly, it is essential to understand the climate and weather conditions in Krynice throughout the year.
Seasonal Overview
Krynice experiences a temperate climate with distinct seasons. The region enjoys warm summers, cool autumns, cold winters, and mild springs. Each season brings its own unique charm and activities for locals and visitors alike.
Summer (June to August)
Summers in Krynice are generally warm and pleasant. The average temperature during this season ranges between 20°C (68°F) and 25°C (77°F). July tends to be the warmest month, with temperatures sometimes reaching as high as 30°C (86°F). The summer months also receive a fair amount of rainfall, making the region lush and green.
To enjoy the summer outdoors, visitors can explore the nearby Bieszczady Mountains or participate in activities such as hiking, biking, or picnicking in the picturesque countryside.
Autumn (September to November)
Autumn in Krynice is characterized by mild temperatures and stunning foliage. The average temperature during this season ranges between 10°C (50°F) and 15°C (59°F). September is usually the warmest month of autumn, while November brings cooler temperatures as winter approaches.
The autumn colors make Krynice and its surroundings a popular destination for nature enthusiasts and photographers. Taking a leisurely walk through the forests or visiting the local vineyards to taste the delicious wines are highly recommended activities during this season.
Winter (December to February)
Winters in Krynice are cold and snowy, creating a picturesque winter wonderland. The average temperature during this season ranges between -5°C (23°F) and 0°C (32°F). January is typically the coldest month, with temperatures occasionally dropping below -10°C (14°F).
Snowfall is common during winter months, providing opportunities for winter sports such as skiing, snowboarding, and ice skating. The Bieszczady Mountains offer excellent skiing slopes for both beginners and experienced skiers.
Spring (March to May)
Spring in Krynice is a time of rejuvenation and blossoming. The average temperature during this season ranges between 5°C (41°F) and 15°C (59°F). March can still be chilly, but as the season progresses, the temperatures gradually become milder.
Spring is an ideal time to explore the local parks and gardens, as the flowers start to bloom, and the trees regain their lush greenery. It is also a great time for outdoor activities such as birdwatching and hiking in the nearby Bieszczady National Park.
Annual Precipitation
Krynice experiences a moderate amount of precipitation throughout the year. The annual average rainfall in the region is around 700mm (27.5 inches). The wettest months are typically July and August, while the driest months are February and March.
It is important to note that weather patterns can vary from year to year, so it is always advisable to check the local forecast before planning any outdoor activities or events.
Climate Graph
Below is a climate graph showcasing the average monthly temperatures and precipitation in Krynice:
| Month | Jan | Feb | Mar | Apr | May | Jun | Jul | Aug | Sep | Oct | Nov | Dec |
| --- | --- | --- | --- | --- | --- | --- | --- | --- | --- | --- | --- | --- |
| Average Temperature (°C) | -3 | -2 | 2 | 8 | 14 | 17 | 18 | 18 | 13 | 8 | 2 | -2 |
| Average Precipitation (mm) | 30 | 25 | 30 | 35 | 50 | 70 | 80 | 70 | 45 | 40 | 35 | 35 |
Source: Local Climate Data
Conclusion
Krynice, Poland, offers a diverse climate throughout the year, allowing visitors to experience the beauty of each season. From warm summers and colorful autumns to snowy winters and blooming springs, Krynice has something to offer for every nature lover and outdoor enthusiast. Whether you prefer hiking, skiing, or simply enjoying the breathtaking landscapes, Krynice is a destination that will not disappoint.
FAQ's about Krynice's Weather:
Q - What is the Latitude and Longitude of Krynice?
A - Krynice's Latitude is 50.587601 & Longitude is 23.381571.
Q - What is the weather in Krynice today?
A - Weather in Krynice is 16° today.
Q - What is the climatic condition of Krynice today?
A - Climate Conditions in Krynice shows clear sky today.
Q - What is the humidity in Krynice today?
A - Humidity in Krynice is 52% today.
Q - What is the wind speed in Krynice today?
A - Wind speed in Krynice is 8.82 km/h, flowing at 142° wind direction. today.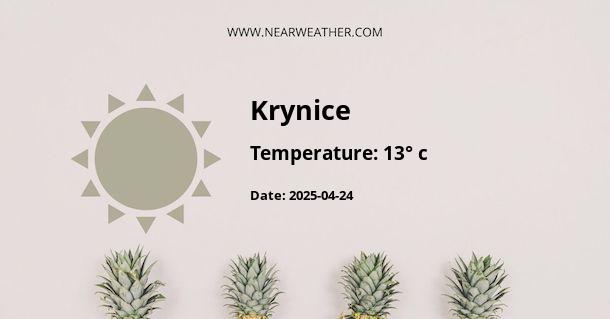 Latest searched locations