Weather
11°
Climate Conditions: overcast clouds
Humidity: 81%
Wind speed: 8.14 km/h
Wind direction: 141°
Evolution
Daily Weather Forecast Evolution (°C)
Other Information
Timezone: GMT+05:30
More about Bakurianis Andeziti:
Bakuriani's Andeziti, Georgia: A Year-Round Weather Guide
Bakuriani's Andeziti is a picturesque location nestled in the heart of Georgia, known for its stunning landscapes and favorable climate. Whether you are planning a trip to this charming destination or considering it as a potential place to settle down, understanding the weather patterns throughout the year is crucial. In this comprehensive guide, we will delve into the climate and weather conditions of Bakuriani's Andeziti, allowing you to make informed decisions and maximize your experience.
Climate Overview
Bakuriani's Andeziti experiences a humid continental climate, characterized by distinct seasons and moderate precipitation. The region is located at an elevation of approximately 1,700 meters (5,600 feet) above sea level, which influences its weather patterns.
Spring (March to May)
Spring in Bakuriani's Andeziti is a time of transition and rejuvenation. The temperatures gradually rise as the season progresses, starting around 5°C (41°F) in March and reaching up to 15°C (59°F) in May. However, it is important to note that spring can be quite unpredictable, with occasional variations in temperature and weather conditions.
The precipitation levels during spring are moderate, with an average of 60-80 mm (2.4-3.2 inches) of rainfall per month. It is advisable to pack a mix of lightweight and warmer clothing during this season to be prepared for varying weather conditions.
Summer (June to August)
Summer in Bakuriani's Andeziti is a delightful time, with warm temperatures and plenty of sunshine. The average daytime temperatures range between 20°C (68°F) and 25°C (77°F), providing favorable conditions for outdoor activities and exploration.
During this season, the region experiences lower precipitation levels compared to other times of the year, with an average of 40-60 mm (1.6-2.4 inches) of rainfall per month. It is the perfect time to enjoy hiking, cycling, and other outdoor activities without the concern of heavy rain or extreme temperatures.
Fall (September to November)
Autumn in Bakuriani's Andeziti showcases nature's vibrant colors and cooler temperatures. September starts with temperatures around 15°C (59°F) and gradually cools down to around 5°C (41°F) by November. The weather during this season is generally mild, making it an ideal time to explore the region's natural beauty.
Precipitation levels increase slightly during the fall, with an average of 60-80 mm (2.4-3.2 inches) of rainfall per month. It is recommended to pack a mix of light and warmer clothing, as the temperature can fluctuate throughout the day.
Winter (December to February)
Winter in Bakuriani's Andeziti transforms the landscape into a winter wonderland. The region experiences cold temperatures and significant snowfall, making it a popular destination for winter sports enthusiasts. Temperatures during this season range from -5°C (23°F) to -15°C (5°F) on average.
Snowfall is abundant, with an average of 150-200 cm (59-79 inches) of snow covering the ground. This makes Bakuriani's Andeziti an ideal location for activities such as skiing, snowboarding, and snowshoeing.
Extreme Weather Events
While Bakuriani's Andeziti generally experiences mild weather conditions, it is important to be aware of potential extreme weather events. Thunderstorms can occur during the summer months, and heavy snowfall may occasionally lead to temporary road closures in winter. It is always advisable to stay updated with local weather forecasts and follow any necessary precautions during such events.
Conclusion
Bakuriani's Andeziti offers a diverse climate throughout the year, providing opportunities for different activities and experiences in each season. From the blossoming spring to the snowy winter, this enchanting location caters to a wide range of interests and preferences. By understanding the weather patterns and being prepared for the conditions, you can make the most of your time in Bakuriani's Andeziti, Georgia.
FAQ's about Bakurianis Andeziti's Weather:
Q - What is the Latitude and Longitude of Bakurianis Andeziti?
A - Bakurianis Andeziti's Latitude is 41.733711 & Longitude is 43.472420.
Q - What is the weather in Bakurianis Andeziti today?
A - Weather in Bakurianis Andeziti is 11° today.
Q - What is the climatic condition of Bakurianis Andeziti today?
A - Climate Conditions in Bakurianis Andeziti shows overcast clouds today.
Q - What is the humidity in Bakurianis Andeziti today?
A - Humidity in Bakurianis Andeziti is 81% today.
Q - What is the wind speed in Bakurianis Andeziti today?
A - Wind speed in Bakurianis Andeziti is 8.14 km/h, flowing at 141° wind direction. today.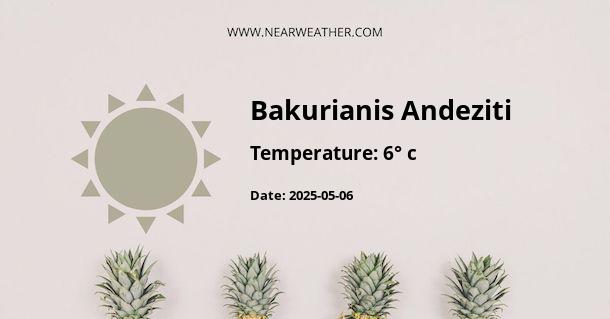 Latest searched locations