Weather
18°
Climate Conditions: overcast clouds
Humidity: 93%
Wind speed: 2.56 km/h
Wind direction: 187°
Evolution
Daily Weather Forecast Evolution (°C)
Other Information
Timezone: GMT+05:30
More about Shimla:
Shimla is the largest city of Himachal Pradesh and it is also the capital city of the state. Stretching across the south-western range of the Himalayas, the average altitude of Shimla is 2206 meters above the sea level. Fascinating as it sounds, due to the seven hills that make for the foundation hills on which the city rests, the hill station of Shima is known as the Queen of Seven hills. Jakhoo Hill is the highest point in Shimla, and the height of this hill is 2454 meters. Shimla comes under the earthquake-prone zone of level IV.
The climate of Shimla is sub-tropical in nature. Shimla is a cold city that is moderately warm in the summer season. The temperature range in the winter season ranges from -4 degree Celcius to 32 Degree Celcius. In summer, the temperature goes up to 28-degree celsius maximum.
Shimla is famous for its snowfall season. Snowfall happens mainly in December or January.
FAQ's about Shimla's Weather:
Q - What is the weather in Shimla today?
A - Weather in Shimla is 18° today.
Q - What is the climatic condition of Shimla today?
A - Climate Conditions in Shimla shows overcast clouds today.
Q - What is the humidity in Shimla today?
A - Humidity in Shimla is 93% today.
Q - What is the wind speed in Shimla today?
A - Wind speed in Shimla is 2.56 km/h, flowing at 187° wind direction. today.
Q - What is the Latitude and Longitude of Shimla?
A - Shimla's Latitude is 31.100000 & Longitude is 77.166672.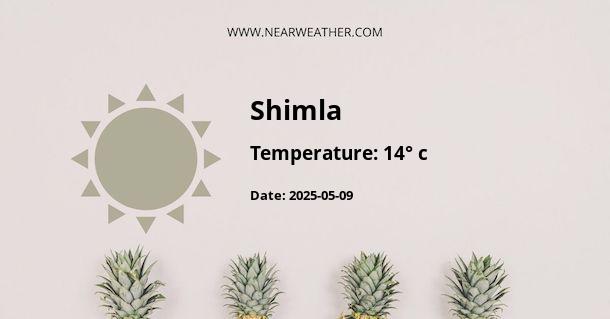 Latest searched locations