Weather
22°
Climate Conditions: scattered clouds
Humidity: 46%
Wind speed: 3.85 km/h
Wind direction: 259°
Evolution
Daily Weather Forecast Evolution (°C)
Other Information
Timezone: GMT+05:30
More about Mohali:
Mohali a.k.a Sahibzada Ajit Singh Nagar is a district in the state of Punjab. In recent years Mohali has emerged as one of the important cities in Punjab and India. The town is famous for its cricket stadium, where legendary India vs. Pakistan's final was played in 2011. Apart from the cricket stadium, there are various other indoor and outdoor stadiums, including the famous hockey stadium and a golf course.
The city has a sub-tropical continental monsoon climate. The city experiences hot summers, cold winters, and unreliable rainfall. The average rainfall has been recorded at 617 millimeters. The average temperature of Summers ranges between 30-degrees Celsius to 40-degrees Celsius, with the maximum ranging to 47-degrees Celsius. The Autumn experiences a temperature range of 16 to 27-degrees Celsius, with a maximum of 36-degree Celsius. The Winters are pretty cold with temperature ranging from 7-degrees Celsius to 15-degrees Celsius with the lowest temperature range of 1 to 5-degree Celcius.
FAQ's about Mohali's Weather:
Q - What is the weather in Mohali today?
A - Weather in Mohali is 22° today.
Q - What is the climatic condition of Mohali today?
A - Climate Conditions in Mohali shows scattered clouds today.
Q - What is the humidity in Mohali today?
A - Humidity in Mohali is 46% today.
Q - What is the wind speed in Mohali today?
A - Wind speed in Mohali is 3.85 km/h, flowing at 259° wind direction. today.
Q - What is the Latitude and Longitude of Mohali?
A - Mohali's Latitude is 30.679951 & Longitude is 76.722107.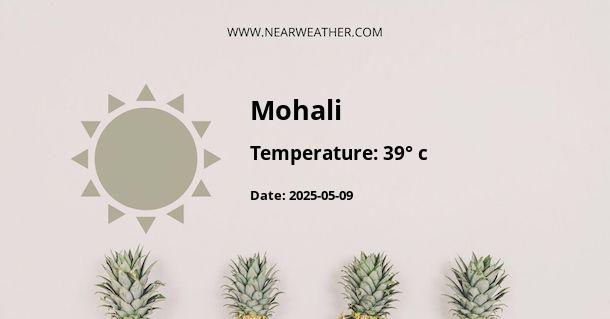 Latest searched locations