Weather
18°
Climate Conditions: light rain
Humidity: 88%
Wind speed: 2.23 km/h
Wind direction: 98°
Evolution
Daily Weather Forecast Evolution (°C)
Other Information
Timezone: GMT+05:30
More about Yala:
Introduction
Yala is a small town located in Siaya County, Nyanza Province, Western Kenya. It's situated near the equator and has a tropical climate. Yala is known for its lush green landscapes, agricultural production, and vibrant local culture. In this article, we will provide a comprehensive overview of the climate and weather patterns in Yala, Kenya.
Climate Overview
The climate in Yala is typically tropical, characterized by high temperatures and significant rainfall throughout the year. The average annual temperature is approximately 20.8°C (69.4°F), and the region receives an average annual rainfall of about 1,200 mm.
Yala, Kenya, experiences a tropical climate with high temperatures and significant rainfall all year round.
Monthly Weather Review
Let's delve into a more detailed monthly review of Yala's weather patterns:
Temperatures
January: This is one of the warmest months, with temperatures ranging from 15°C (59°F) to 29°C (84.2°F).
February: The temperatures remain relatively high, ranging from 15.5°C (59.9°F) to 30°C (86°F).
Rainfall
January: This month typically sees the lowest rainfall, with averages of about 20 mm.
February: Rainfall is still quite low, averaging around 30 mm.
Seasonal Weather Patterns
In Yala, the year can generally be divided into two main seasons: the wet season and the dry season.
Wet Season
The wet season in Yala runs from March to June and from October to December. There are two peaks in rainfall, in April and November, which are the wettest months. During this period, temperatures remain consistent, averaging around 20°C (68°F).
Dry Season
The dry season runs from January to February and from July to September. Despite being the "dry" season, rain can still occur, but it is significantly less frequent and intense than in the wet season. Temperatures during this period are slightly higher, with averages of around 22°C (71.6°F).
Implications of Yala's Weather and Climate
The tropical climate of Yala has both positive and negative implications for the area. It is conducive to agriculture, particularly the growth of tea, coffee, and various fruits and vegetables. However, the high rainfall can also lead to flooding, particularly in the wet season, which can have detrimental effects on local communities and farming activities.
Conclusion
Overall, Yala's climate is characterized by consistent high temperatures and significant rainfall throughout the year. Understanding these patterns is crucial for both local residents and visitors, as it can affect various activities such as agriculture, tourism, and outdoor recreational activities.
Understanding the climate and weather patterns of Yala, Kenya, is essential for planning agricultural activities, visiting schedules, and more.
FAQ's about Yala's Weather:
Q - What is the Latitude and Longitude of Yala?
A - Yala's Latitude is 0.099060 & Longitude is 34.537571.
Q - What is the weather in Yala today?
A - Weather in Yala is 18° today.
Q - What is the climatic condition of Yala today?
A - Climate Conditions in Yala shows light rain today.
Q - What is the humidity in Yala today?
A - Humidity in Yala is 88% today.
Q - What is the wind speed in Yala today?
A - Wind speed in Yala is 2.23 km/h, flowing at 98° wind direction. today.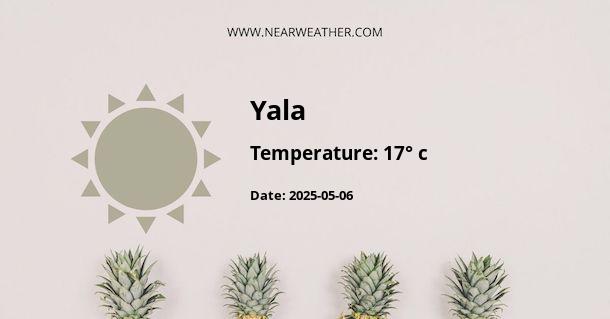 Latest searched locations